Bayview Glen

Website:
www.bayviewglen.ca
Address: 275 Duncan Mill Rd.
City: Toronto
Postal Code: M3B 3H9
Phone: (416) 443-1030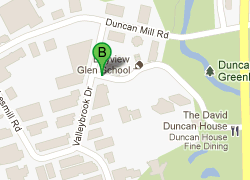 Founded in 1962, Bayview Glen is a co-educational, multicultural, multi-denominational, university preparatory day school. Our programmes are enhanced to offer our students from age 2 to university entrance a highly challenging academic, athletic, and character-building educational experience.
Bayview Glen is committed to fostering a sense of community that includes students, parents, faculty and staff. The goal of the programme is to develop the whole child by nurturing self-esteem, leadership, academic excellence and independence within a secure and supportive learning environment. Each day at Bayview Glen is filled with new experiences, and opportunities are provided for both challenge and success.
Our academic and Advanced Placement programmes are balanced by a strong music and arts programme, languages, physical education, Duke of Edinburgh awards, outdoor adventuring, Round Square, community involvement and co-curricular activities. Please visit our website at www.bayviewglen.ca for more information.