The Country Day School

Website:
www.cds.on.ca
Address: 13415 Dufferin Street
City: King
Postal Code: L7B 1K5
Phone: (905) 833-1220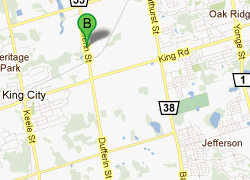 The Country Day School (JK-12) is a co-ed, non-denominational, university-preparatory school, situated on a beautiful 100-acre campus in the heart of King Township. We offer a superior, balanced education that challenges the student, develops the mind and strengthens the character. The campus features outstanding athletics facilities, a modern performing arts centre and leading-edge technology, all of which enhance our ability to educate in innovative ways. Our passion is to ensure that every graduate leaves our school well prepared for university, confident, independent, intellectually curious, morally responsible, appreciative of the arts, physically fit and globally aware.