Trinity College School

Athletic Director: Tim White
Phone: (905) 885-3217 ext 1224
Email:
twhite@tcs.on.ca
Website:
www.tcs.on.ca
Address: 55 Deblaquire Street North
City: Port Hope
Postal Code: L1A 4K7
Phone: (905) 885-3217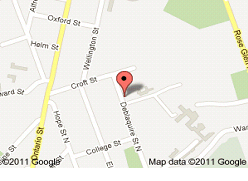 Trinity College School is a co-educational, independent boarding/day school located on 100 acres of rolling countryside in picturesque Port Hope, Ontario, Canada, one hour's drive east of Toronto. Our Senior School, Grades 9-12, includes approximately 450 students, approximately 60% of whom are boarders. Our Junior School includes nearly 100 day students from Grade 5 to Grade 8. Established in 1865, TCS is one of Canada's oldest and most respected educational institutions. The School places a balanced emphasis on academics, service learning, athletics and the arts - as both a long-held TCS tradition and a rethought, reinvigorated approach to 21st century education. Our supportive and close-knit community of students, parents, alumni, staff and friends make the School on the Hill a truly special place.
Our mission: Develop habits of the heart and mind for a life of purpose and service. This is our shared purpose and it informs our daily actions both in and out of the classroom. Our collective vision is for Trinity College School to be internationally regarded for excellence in developing leaders of character, purpose and vision due to the strength of its people, programme and place.