The Bishop Strachan School

Senior School Athletic Director : Sharon Jameson
Phone: (416) 483-4325 ext 5654
Email:
sjameson@bss.on.ca
Junior/Middle School Athletic Director : Sheila Allen
Phone: (416) 483-4325 ext 5575
Email:
sallen@bss.on.ca
Website:
www.bss.on.ca
Address: 298 Lonsdale Road
City: Toronto
Postal Code: M4V 1X2
Phone: (416) 483-4325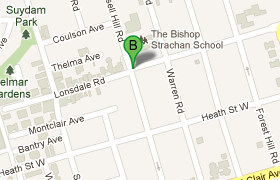 BSS knows how girls learn, and believes they can do anything. With over 140 years of experience helping young women become leaders, BSS is among the premier girls' schools in North America. Day and boarding students from Junior Kindergarten to Grade 12 have the opportunity to learn, explore and mature in a creative and challenging environment. In academics, arts and athletics, BSS has assembled an extraordinary faculty and state-of-the-art facilities to give each student the resources and atmosphere that encourage her to be her very best. There is a wide range of Advanced Placement courses available as well as a full co-curricular program that includes countless clubs, teams and activities to keep your daughter engaged in the life of the school. BSS stresses community service as a cornerstone to helping our students mature and learn in a variety of settings. With a diverse student body, BSS is home to students from Africa, Mexico, the Middle East, Asia and many other parts of the world. If you seek a school that will ensure that your daughter will emerge a well-rounded, confident and academically competitive young woman, visit www.bss.on.ca. With the right education, girls who want to change the world become women who do.