Kempenfelt Bay School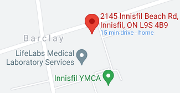 KBS is a co-educational, independent, non-profit, Junior Kindergarten through Grade 8 elementary school in beautiful Barrie, Ontario. More of a large family than a small school, KBS is committed to providing an engaging, safe and intimate community, where students are able to explore and express both their intellectual and creative abilities through challenging academic classes, music, arts, athletics and community service. Students are immersed in a nurturing environment, created by our well qualified faculty and staff, where emphasis is placed on emotional development, self-awareness and positive self-image. Praising effort, encouraging citizenship and providing opportunities for students to try new experiences in an accepting environment, are at the heart of our community.
As stated in our mission, but more importantly, as seen in the classrooms and hallways of our school, Kempenfelt Bay School is committed to providing an exemplary education that empowers students to embrace their personal potential, as productive and responsible global citizens.