Kingsway College School

Athletic Director : Sherri Field
Phone: (416) 234-5073, ext. 245
Email:
sfield@kcs.on.ca
Website:
www.kcs.on.ca
Address: 4600 Dundas St. West
City: Etobicoke
Postal Code: M9A 1A5
Phone: (416) 234-5073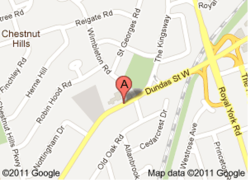 Kingsway College School (KCS) is a co-ed school in Toronto's west end for children in grades 1-8. Committed to the growth of the whole child, KCS offers a supportive educational environment through strong programmes in academics, the arts, athletics and citizenship. Its complete range of enriched courses is enhanced by a first-rate technology programme which is integrated throughout the curriculum at every grade level. Each student is strongly encouraged to try everything that KCS has to offer, including the many extra-curricular clubs and sports. The three school rules - Show Respect, Display Good Manners and Try Your Best - are powerful ideals that are at the forefront of all activity and enable our students to develop self-confidence, independence, leadership and responsibility.
At KCS, the spirit of the school's community encompasses its students, parents, faculty and staff working closely together to ensure that the children are happy and that they experience success.