Rosseau Lake College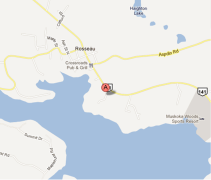 Rosseau Lake College offers academic excellence in a safe and natural setting. Small classes, structured evening study, monthly report cards and a supportive mentor system create an environment that fosters achievement. RLC is situated on picturesque Lake Rosseau with 3500 feet of waterfront. Rock & ice climbing, whitewater canoeing & kayaking, mountain biking, Nordic skiing & snowboarding can all be done right at our back door! Participation in outdoor education and extra-curricular activities provides students with the opportunity to develop competence, confidence and character.
Young people from around the world achieve their best at Rosseau Lake College. 95 - 100% of our graduates are accepted at every university or college to which they apply and RLC graduates enjoy enviable success in university/college and in life.