Trafalgar Castle School

Website:
www.castle-ed.com
Address: 401 Reynolds Street
City: Whitby
Postal Code: L1N 3W9
Phone: (905) 668 3358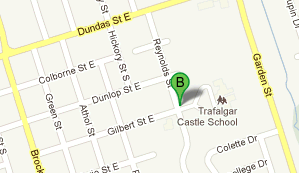 Established in 1874, we are a Canadian, independent day and boarding school for girls in Grades 5-12. Located in the beautiful town of Whitby, we are just 40 minutes east of Toronto.
Trafalgar Castle School offers a rigorous university preparatory curriculum. We constantly research and evaluate leading curriculum programmes from around the world and adapt them to our students. Our focus is to prepare our young women for post-secondary education through courses that emphasize the development of effective communication, the ability to access and evaluate information and critical thinking skills. In our "Connected Classrooms" we use information technology to deliver appropriate components of the curriculum and in the process encourage mastery of the technology skills essential for success in today's world.